Development of Boom for Bipedal Hopping Robot
This project is a subproject of a Final Year Project being carried out currently at SMME. The Final Year Project is the development of a hopping robot while the boom will be manufactured for the dynamic analysis of the robot. The project will encompass three modules:
Designing of boom model on CAD software
Structural Analysis of boom for optimal performance of robot
Manufacturing of boom according to design.
The boom will allow for quasi planar motion of robot on the ground. The project will allow for practical application of students' knowledge of Mechanics of Materials, Machine Design, Computer Aided Design and Workshop Technology.
Application Based Machine Learning
In the modern world, machine learning is becoming an extremely powerful tool and as such used in almost all walks of engineering such as Robotics, Data Analysis, Finance, Application development etc. Machine learning is basically the development of computer programs and algorithms that can access data and learn from them.
Considering the immense applications, IMechE has decided to start a project for students to learn and apply machine learning algorithms to solve real life practical problems. The project will make use of computer language and algorithm building skills of the students.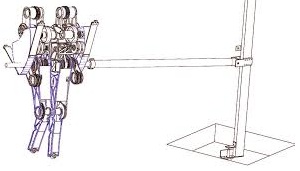 Development of Applications for STEM Education Enhancing
Undergraduate science, technology, engineering and mathematics education has its own
unique challenges. Several complex concepts and ideas are to be delivered to students in a
short span of time. Advanced courses also present challenges in student learning. Due to a large
classroom, giving personal attention to each student is also not possible. Keeping all this in
mind, simulation-based tools can assist in enhancing the learning of students and can also help
in outside the classroom learning.
Therefore SMME through IMechE has started a project for development of simulation softwares for improving the learning process of STEM students. In the initial phase, simulation applications will be developed for the courses of Machine Design, Heat Transfer and Mechanics of Materials.
The project will incorporate the use of Finite element Analysis platform COMSOL.
Interior and Exterior Design of Vehicles
SMME has been involved in development of mini vehicles. Two vehicles designated MPV-1 (multipurpose vehicle) and BF-1 (Butterfly) have been developed at the Manufacturing and Resource Centre. The MPV-1 has been modeled on an existing vehicle in the market, while focus of BF-1 was the use of 200 cc motorcycle engine. SMME through IMechE will now conduct a project for designing the complete car structure and bodies including interior for the two vehicles.
The project will utilize the Computer Aided Design soft wares, ergonomic and CFD analysis through various softwares, thus providing students with another learning opportunity.
For any queries visit our facebook page:
https://www.facebook.com/NUST.IMechE/